Details
Features:

RF Remote control,long distance,mini size,wire connection is simple and very easy to use;
Support almost every kind of one-wire or two-wire LED-DRIVER-IC ;(Can be customized)
With 300 kinds of patterns,which are vivid and beautiful;
Each controller can control up to 2048 pixels;
With user setting saving functionality;
Brightness adjustable.
Preventing reverse connection of power supply.
Description:

Testing:

Continuously pressing the AUTO button 5 times until LED is out, release the AUTO button to into the mode of switch ing in red,green,blue,yellow,purple,cyan and white,witch to test the your LED.

Matching:

Continuously pressing the MATCH button 5 times until LED flash in white quickly to match the Remote control with the

receiving controller.Pressing the MATCH button for 5 times till LED flash in white slowly to un-match;

Reorder RGB
Differ from kinds of  LED, The R G B keys may don't perfectly match to your LED,Reorder them if needed. Continuously pressing the SETTING button 5 times until LED flash in white once and then turn into all white,Pressing the R button until LED is red, Pressing the G button until LED is green, pressing the B button till LED is blue, then press the SETTING button once to confirm your setting;

Adjust Num of pixels:

The factory default setting of  the number of controlled pixel is 600. Continuously pressing the SETTING button 5 times until

LED flash once and turn all white, pressing MODE+ to add pixels ,pressing MODE- to decrease pixels,(each pressing add or decrease

60 pixels) then press the SETTING button to confirm your setting;Can be regulated to up to 2048 pixels,The minimum number is

300 pixels.

Catching:

When in the AUTO mode, pressing the SETTING button once,and then press MATCH button once to catch the Current pattern to stay and

operate circularly. 
Package Include:

1 Piece Mini RF RGB LED Controller

1 Piece RF Remote

1 Piece User Manual
CE and RoHS approved
Processing & Shipping & Tracking
Mostly the parcel will be shipped within around 1 to 3 business days after payment is received. If you need the items urgently, Pls do contact us for the delivery date right after or before you placed orders. service@ledlightingsave.com
Our website is very easy to use, the shipping fee base on the weight of the products. You would easily choose the Shipping Method (UPS/DHL/Fedex/Economic shipping) when you check out, We will always offer the Online Tracking Number to you via Email.
All the products will be packed well for every order, to make sure you will quickly receive all the products at great condition. We weekly supply hundreds of parcels to UK, USA, France, Germany, Italy, Switzerland, Spain, Canada, Sweden and other Europe countries, and we show you the following photos which we took right before we pack the parcels.
Ordering & Payment
We supply our clients with high quality products, quick shipping and professional service, Here are some photos of the Paypal Payments to our account, as you would see, all of the orders has tracking number, and none of them has any problems to be asked for refund or something else, it is a good reference of our products and service: (We covered the name and email to protect the privacy of our clients).
We offer high quality products and service, so a lot of customers become our loyal customers after they bought from our company, here are some cases for your reference: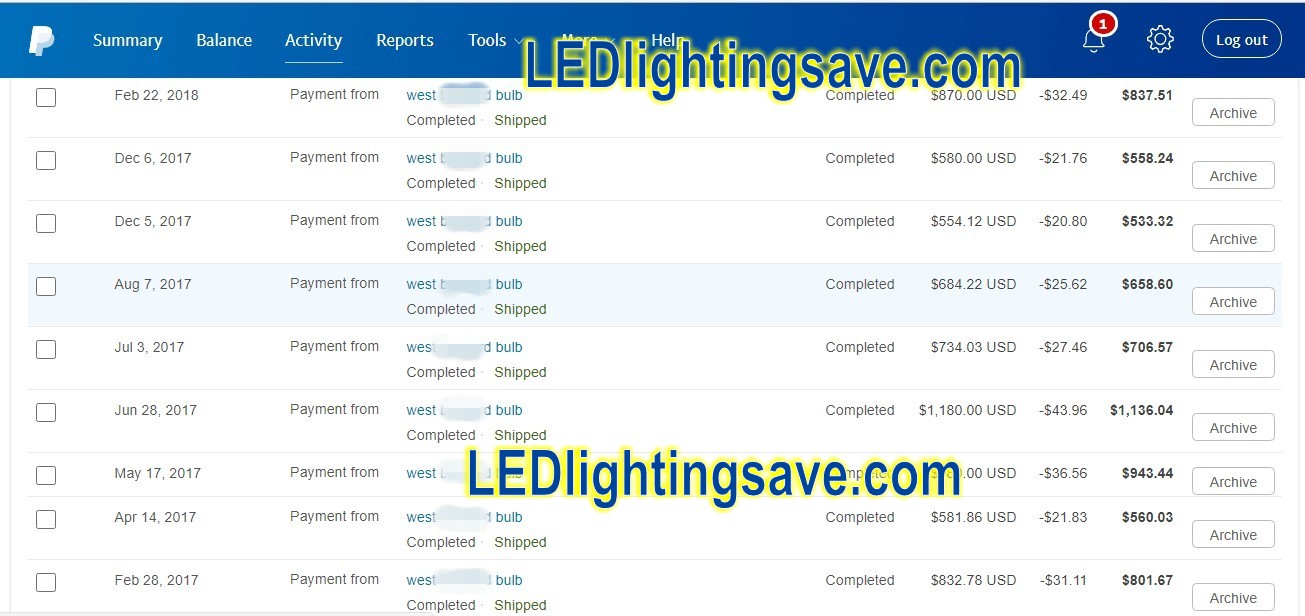 We have access to additional products which are not yet listed on this website. If there is something else you need, please email us we will check on its availability and get back to you very soon.

Pls Contact service@ledlightingsave.com   We will reply quickly and professionally
You would also send us a list of items you want to buy, and we will make a quotation then send Paypal Invoice to you to make shopping easily.
We weekly supply hundreds of parcels to UK, USA, Germany, Denmark, Austria, Canada, France, Spain and other coutries, enjoy good reputation of high quality and quick delivery.
You would always find LED Strips, LED Controllers, LED Power Supply, LED Accessories on ledlightingsave.com