Details
Specification:
Working voltage: DC 5V - 24V

Output :3 Channels

Output current:<4A(each channel)

Transmission/Receiving frequency:433.92Mhz

Speed Grade: 5 levels

Dynamic color:19 colors

Static Color: 20 Colors

Remote distance:>15meters at open area

Features:

1.Brightness adjustable

2.Adjust the light soft and stable, no flickering.

3.Easy to install and simple to use

4.Use for single color strip and LED lamps, such as wash wall lamp, glass curtain wall light

5.Constant voltage and constant current output

Description:

About the Mini Controller:

This mini controller is tiny in its size(easy to be concealed) but great in its function.Through connecting with this controller, it will be able to control the LED RGB strips by the accompanied RF controller,achieving different modes and colors.  

About the RF Remote:

The RF wireless remote signal can pass through barrier, it gets a longer control distance(about 15 meters at open area) so it is not necessary to aim at the main unit when operating.   

Mini LED RGB Controller with Power Supply Socket + RF Remote Control is the accessory product for the LED Strip light RGB controller, used to control a variety of LED lighting as the light source brightness. With manual adjustment knob to adjust the lighting brightness, wiring convenient, simple and intuitive. Here are the feedbacks we got from many Users:

"Product works through a wall with no issues, plenty of modes/options to choose from. It also auto starts where it left off when power is removed and then supplied again."    

"The small size of this controller made it easy to hide and since it is RF you can control the lights from inside the trailer. It has a lots of colors and and dynamic modes. Great price, worked perfectly and small size makes this a great small unit. "

"Working great, lots of modes, nice range of the remote; just love it! I have the controller hidden behind my wall baseboard and it still catches the remote control's signal with no issues! "

This DC 5-24 Volt Mini RGB LED Controller is loaded with functionality and has an RF remote range of up to 50ft. It can be used to control color effects for 5-24 Volt DC Constant Voltage RGB LED Strip Lights, RGB LED modules and RGB LED lights. This RGB LED Controller is for use with 4 pin, 3 loop cable, common anode style constant voltage RGB LED Lights. With 3A per channel output this controller can handle an astonishing 108W at 12VDC and 216W at 24VDC. Functions include 20 static colors with 5 levels of dim (minimum dim level %30), and a variety of color flashing, strobing, and fading modes with 5 levels of speed adjustment. Each RF remote is uniquely paired with its individual controller. Power is input through a 5.5 X 2.1mm barrel connector (opposite gender not included).

Package Include:

1 Piece Mini RF RGB LED Controller

1 Piece RF Remote

1 Piece User Manual
CE and RoHS approved
Processing & Shipping & Tracking
Mostly the parcel will be shipped within around 1 to 3 business days after payment is received. If you need the items urgently, Pls do contact us for the delivery date right after or before you placed orders. service@ledlightingsave.com
Our website is very easy to use, the shipping fee base on the weight of the products. You would easily choose the Shipping Method (UPS/DHL/Fedex/Economic shipping) when you check out, We will always offer the Online Tracking Number to you via Email.
All the products will be packed well for every order, to make sure you will quickly receive all the products at great condition. We weekly supply hundreds of parcels to UK, USA, France, Germany, Italy, Switzerland, Spain, Canada, Sweden and other Europe countries, and we show you the following photos which we took right before we pack the parcels.
Ordering & Payment
We supply our clients with high quality products, quick shipping and professional service, Here are some photos of the Paypal Payments to our account, as you would see, all of the orders has tracking number, and none of them has any problems to be asked for refund or something else, it is a good reference of our products and service: (We covered the name and email to protect the privacy of our clients).
We offer high quality products and service, so a lot of customers become our loyal customers after they bought from our company, here are some cases for your reference: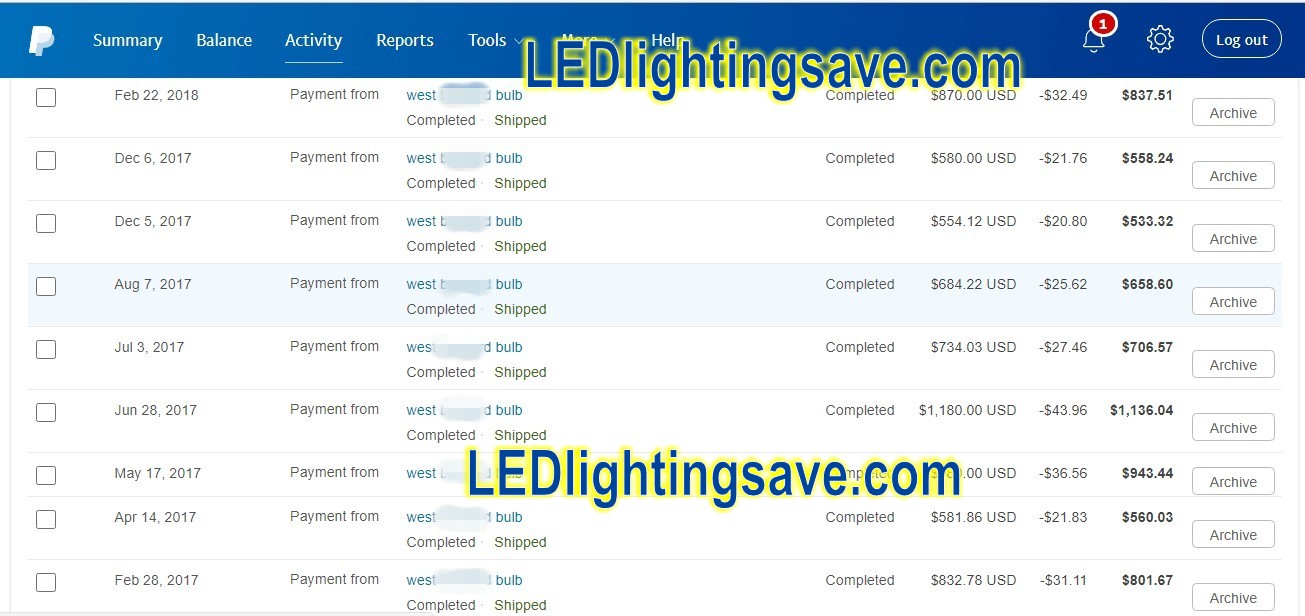 We have access to additional products which are not yet listed on this website. If there is something else you need, please email us we will check on its availability and get back to you very soon.

Pls Contact service@ledlightingsave.com   We will reply quickly and professionally
You would also send us a list of items you want to buy, and we will make a quotation then send Paypal Invoice to you to make shopping easily.
We weekly supply hundreds of parcels to UK, USA, Germany, Denmark, Austria, Canada, France, Spain and other coutries, enjoy good reputation of high quality and quick delivery.
You would always find LED Strips, LED Controllers, LED Power Supply, LED Accessories on ledlightingsave.com